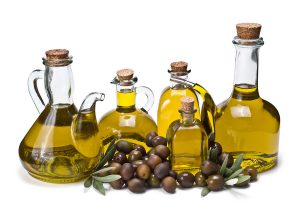 The olive oil is a base ingredient in the Mediterranean cuisine and is a highly appreciated product around the world for its organoleptic properties as well as its health benefits.
Its use dates back to ancient Egypt, its production and the cultivation of olives has unleashed conquests and wars, commercial routes and cities have been created around it. Nowdays, more than 3 million tons per year are consumed worldwide.
Although its greater use is related to food for food preparation and preservation, it is also highly valued in cosmetics and beauty products.
Spain it's the world´s first olive oil producer, around 1.580.000 tons in 2018 which means more than the 50% of the total production wolwide. Greece follows  behind producing 230.000 tns, then Turkey and Italy. 40% of the Spanish olive oil is exported as it is highly appreciated for its quality and its competitive price.
The virgin olive oil is obtained directly from the pressed olive by mechanical procedures. It is in fact pure and raw "olive juice", without any chemical procedure done through its production. This makes the Extra Virgin Olive Oil one of the healthiest vegetable fats.
They are also the most stable vegetable fats when heated, so it contributes to the quality of the cooked products.  This makes it the best oil for cooking at high temperatures.
There are plenty of uses for the olive oil in the kitchen:
Dress your salad with it, add some salt and vinegar or lemon for the healthiest taste.
Marinate your meats, fish and vegetables letting the oil penetrate the outer layer of the food.
Use it in your bread instead of butter.
Add salt and tomato for a Mediterranean breakfast.
Saute your vegetables with it to bring up the flavor.
Add it on your cooked pasta.
Use it over your baked potato, or mix it with your mashed potato.
Whisk it with egg to make Mayonnaise.
Pour some in your stews.
Frying: Olive oil is perfect for frying too.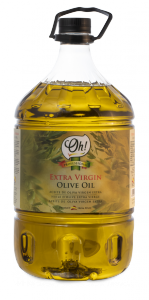 El Oh! Professional Line – Extra Virgin Olive Oil it is presented in a practical 5L PET bottle, perfect to use in the kitchen. Usually extra virgin oil is used raw or to cook fine dishes.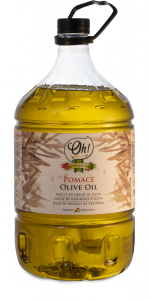 Y el Oh! Professional Line – Pomace Olive Oil offers an affordable solution for cooking and frying, has a duration of more than 20 uses (15% more than other vegetable oils).